Air Conditioning Service in Redding, CA
It's always smart to schedule air conditioning service in Redding, CA in the early spring before you need to use it. Bickley's will come to your home and give your air conditioner a full inspection and cleaning.
Preventative maintenance is key in extending the life of your air conditioner. Our trained technicians will thoroughly inspect your air conditioning system, look for potential problems & make the necessary repairs. This can save you from major breakdowns in the future. If your home's air conditioner is starting to require more repairs, we can give you a free estimate on a new system. Financing is available from Synchrony.
Whether it's a air conditioning tune-up, repair, installation, or complete replacement, our technicians can educate you on the best choices for your home. You can trust Bickley's Air Conditioning & Heating with all of your AC services.
AC Installation
Looking for professional AC installation in Redding? Look no further! At Bickley's Air Conditioning & Heating, we specialize in AC installation to ensure optimal comfort in your home or business. Our skilled technicians have the expertise and knowledge to handle installations of all sizes and complexities. We take pride in offering top-quality installations, utilizing the latest technologies and industry best practices. When you choose Bickley's Air Conditioning & Heating for your AC installation in Redding, you can expect a seamless and efficient process from start to finish.
AC Maintenance
Proper air conditioning maintenance is crucial in keeping your system running efficiently and effectively. One of the most important steps is to regularly change your air filter, which can become clogged with dirt and debris, restricting airflow and reducing your system's efficiency. Another important maintenance task is to clean the evaporator and condenser coils, which can also collect dirt and debris over time. A professional technician can also check and adjust the refrigerant levels, inspect the ductwork for leaks or damage, and perform an annual maintenance appointment to ensure that your system is running at peak performance.
I recently upgraded my home HVAC system. Frank came to my home at the date and time we scheduled. He evaluated my home needs, factoring in energy usage, efficiency ratings, and other options. He told me about other services he offered, and extended warranty information. I used his father's services at a former home 30 years ago, so I know the Bickley's are deep rooted in the local community.
Frank explained they are very busy this time of year, and his suppliers prices are constantly changing. He said in order to provide the lowest quote, he would need to determine current pricing. It took Frank about a week to get back to me. He apologized for the delay, but he was waiting from more than one supplier to quote him. The result? Bickley's was one third less in cost, than the other two quotes I received!
The install went well. My unit is in the attic, so the guys were working in a very hot environment! Nobody complained about the work, or their employer. All the guys were clean cut, courteous, and professional. They answered all my questions, and cleaned up behind themselves as they worked. Heck, even my dogs liked them! ??
My unit was shipped with a defective part for the heater, so the heater couldn't be tested, (it's summertime anyways). They said they'd return when that part arrived, and they did. Their tech had the new part installed really fast, and verified all my air flows were balanced for my home. He gave the installers work a once over, to verify they didn't overlook anything.
In closing, I'd say the whole transaction went well, and was a great value for what I received. I know my coworker that had them do an install, feels the same way.
I wouldn't hesitate to recommend Bickley's services.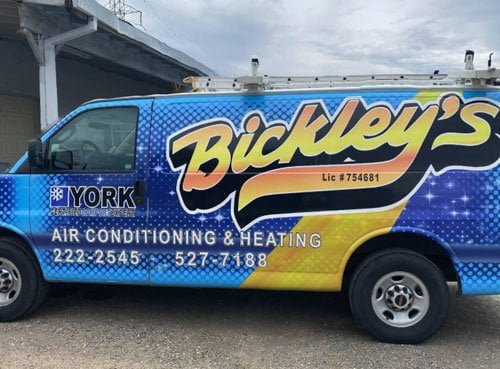 Air Conditioning Service
in Redding, CA