Quality Service. Knowledgeable Staff. Competitive Pricing.
When summer arrives you want a reliable and efficient air conditioning system to enjoying the summer season! Call us for your AC services.
Bickley's has wide range of heating services including furnace repairs, maintenance, replacement and new installations in Redding & Red Bluff, CA!
QuietCool Whole House Fan
Cool your home instantly, quietly, and affordably! Whole House Fans are one of the best ways to create a quiet, fresh, cool, comfortable breeze in your home.
We are a Mitsubishi Diamond Contractor. We offer high quality installation and provide repair and maintenance services for all brands of mini-split.
Air Conditioning & Heating in Redding, Red Bluff, CA & surrounding areas
Since the very beginning, Bickley's has been dedicated to securing the finest air conditioning & heating service in Redding, CA and surrounding areas.
Whether you need a heat pump, AC or furnace repair, a new air conditioning installation or replacement, all in one heat pump or a variable speed air handler, Bickley's is the HVAC contractor to call! Our services include seasonal AC and furnace tune-ups. We repair all brands of air conditioning, heating & ductless mini split systems in Redding, CA. When you invest in heating, air conditioning and indoor air quality products from Bickley's Air Conditioning & Heating, you are investing in a dealer capable of giving you superior advice and ongoing services to keep your equipment running reliably. We install quality products from York, Mitsubishi & QuietCool whole house fan.
Bickley's Air Conditioning & Heating experience, excellent customer service and industry leading products make us the first choice for your residential or commercial indoor comfort needs. Call us for an estimate on any installation or replacement.
Furnace Service in Redding & Red Bluff, CA
If your furnace stops working or is not working efficiently, we can help you . Whether your heating system needs a simple repair or a full replacement, our technicians can provide a solution. When it comes to furnace problems, we have the expertise to restore heat to your home.
Call us for furnace repair!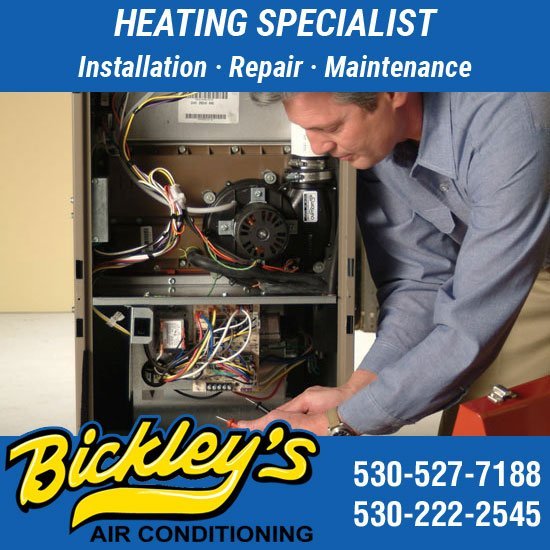 Being Comfortable Now Costs Less
Like a home or automobile, buying a central heating and cooling system could be one the largest investments you'll make. But with the right energy-efficient comfort system and installation, you could see considerable savings over the lifetime of the system, which can also help offset your initial investment.
Apply for YORK® credit today to start enjoying a more comfortable home tomorrow!