Air Conditioner Repair in Redding, CA
Bickley's is your trusted HVAC expert for air conditioner repair in Redding, CA. With our years of experience and skilled technicians, we offer reliable and efficient solutions for all your cooling needs. Whether you are facing a minor AC issue or a major system breakdown, we have the expertise to handle it all. At Bickley's, we take pride in our ability to repair all makes and models of air conditioners, ensuring that your cooling system is up and running in no time.
Our Air Conditioner Repair Services
At Bickley's, we understand the inconvenience and discomfort a faulty air conditioner can cause, especially during scorching Redding summers. Our comprehensive AC repair services are designed to address a wide range of issues, including:
Air Conditioning Unit Not Cooling: If your AC is blowing warm air or failing to maintain the desired temperature, our skilled technicians will diagnose and fix the problem promptly.
Strange Noises or Odors: Unusual sounds or odors emanating from your AC could indicate a mechanical issue. Our experts will pinpoint the source and provide effective solutions.
Frequent Cycling: An air conditioner that cycles on and off frequently may have an underlying problem. Our team will identify and rectify the issue to restore optimal functionality.
Frozen Coils: If you notice ice buildup on your AC coils, it's crucial to address it immediately. Our technicians will troubleshoot the cause and prevent further damage.
Leaking or Water Pooling: AC leaks can lead to water damage and reduced efficiency. We will find the source of the leak and fix it efficiently.
Why Choose Bickley's for AC Repair
Contact Bickley's for Air Conditioner Repair in Redding, CA
Don't let a malfunctioning AC disrupt your comfort. Get in touch with Bickley's for expert air conditioner repair in Redding, CA. Our team is ready to address all your HVAC needs promptly and efficiently. Call us at [Phone Number] or fill out our online form to schedule a service today. Enjoy a cool and comfortable living environment once again with Bickley's HVAC services!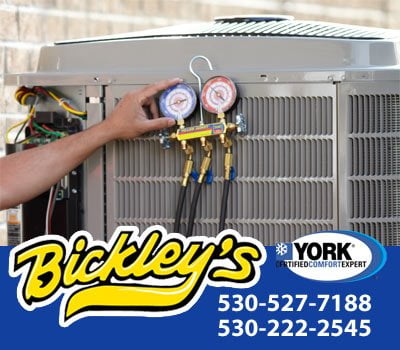 Air Conditioner Repair in Redding, CA