Air Conditioning Repair in Redding, Red Bluff & Surrounding Areas
At Bickley's Air Conditioning & Heating, we take pride in offering professional air conditioning repair services for both residential and commercial clients in Redding & surrounding areas. Our team of experienced technicians is well-equipped to handle repairs for all makes and models of air conditioning systems.
Comprehensive AC Repair Solutions
With Bickley's Air Conditioning & Heating, you can trust that we provide comprehensive AC repair solutions to address any issues you may be experiencing with your cooling system. Our skilled technicians are trained to diagnose and fix a wide range of problems efficiently, ensuring optimal performance and comfort.
Skilled Technicians for All Makes & Models
Our skilled technicians have extensive knowledge and expertise in repairing air conditioning systems from all major brands. Whether you have a traditional central air conditioner, a ductless mini-split, or a specialized HVAC unit, we have the skills and experience to handle the repair with precision.
Timely and Reliable Service
At Bickley's Air Conditioning & Heating, we understand the importance of a functional air conditioning system, especially during hot summer months. That's why we prioritize providing timely and reliable repair services. When you choose us, you can expect prompt response times and efficient repairs to restore your AC's functionality.
Exceptional Customer Satisfaction
Customer satisfaction is our top priority at Bickley's Air Conditioning & Heating. We strive to deliver exceptional service from start to finish. Our friendly staff is dedicated to ensuring that your repair experience is hassle-free and that your air conditioning system operates at its best, keeping you comfortable throughout the year.
Contact Us for Air Conditioning Repairs
Don't let a malfunctioning air conditioner disrupt your comfort. Contact Bickley's Air Conditioning & Heating today for reliable air conditioning repair services. Our team is ready to assist you and restore your AC's performance efficiently.
Trusted Air Conditioning Repair in Redding, Red Bluff & Surrounding Areas
Our air conditioning repair services cover a wide service area that includes Redding, Red Bluff, Anderson, Cottonwood, Bend, Tehama, Shasta, Glenn & Butte. We understand the unique climate challenges faced by residents and businesses in these regions. Whether you're experiencing cooling issues in your home or office, our skilled technicians are readily available to diagnose and resolve the problem efficiently. We take pride in serving these communities and strive to provide exceptional customer satisfaction through our reliable and timely AC repair services.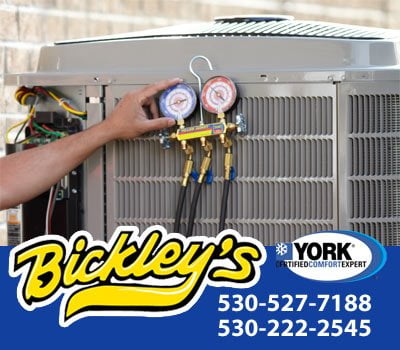 for air conditioning repair