Quality Air Conditioning Repair in Redding, CA
If you're in need of professional air conditioning repair in Redding, CA, call Bickley's Heating & Air Conditioning. As a trusted and reliable company, Bickley's specializes in providing expert repair solutions for all brands of air conditioning units. With their team of skilled technicians, they possess the knowledge and experience to diagnose and fix a wide range of AC problems efficiently and effectively.
When your air conditioner starts malfunctioning, Bickley's understands the urgency of getting it back up and running. They offer prompt and reliable service, ensuring that you don't have to endure the discomfort of a malfunctioning AC unit for long. From minor issues like refrigerant leaks and faulty thermostats to major system failures, Bickley's technicians have the expertise to handle any repair job with precision and attention to detail.
What sets Bickley's apart is their commitment to customer satisfaction. They prioritize open communication and strive to provide transparent pricing and honest recommendations. You can trust their technicians to assess your AC system accurately and provide you with the most cost-effective solutions. Whether it's a quick fix or a complex repair, Bickley's will work diligently to restore your AC unit to optimal performance, ensuring your comfort during the hot summer months.
With Bickley's, you can have peace of mind knowing that your air conditioning repair needs are in capable hands. Don't let a malfunctioning AC unit disrupt your comfort any longer—contact Bickley's today and let their experienced team tackle the problem swiftly and efficiently.
Expert AC Replacement Estimates for Unfixable Units in Redding, CA
When your air conditioner reaches a point where repairs are no longer feasible, Bickley's Heating & Air Conditioning in Redding, CA has you covered. Our experienced team understands that sometimes, a replacement system is the best solution. We offer professional estimates for AC replacements, tailored to fit your specific needs and budget. With our expertise in the latest cooling technologies and energy-efficient options, we'll provide you with comprehensive recommendations and competitive pricing. Rest assured that Bickley's Heating & Air Conditioning will guide you through the process, ensuring a smooth transition to a reliable and efficient new AC system.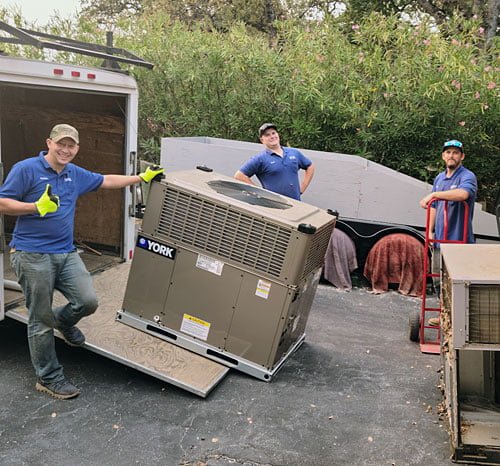 for air conditioning repair in Redding