Air Conditioner Repair in Red Bluff, CA
Bickley's is the premier provider of expert air conditioner repair in Red Bluff, CA. With years of experience, our skilled technicians specialize in repairing air conditioning systems of all makes and models. We understand the importance of a properly functioning AC unit in maintaining a comfortable indoor environment, particularly during the hot seasons in Red Bluff. Whether you're experiencing minor AC problems or major breakdowns, you can rely on Bickley's for prompt, reliable, and professional air conditioner repair services.
Our Air Conditioner Repair Services
Our experienced technicians will meticulously inspect your AC system, accurately identify the underlying issue, and provide a thorough diagnosis.
From compressor problems and refrigerant leaks to electrical issues and more, our technicians have the expertise to address a wide range of AC problems. We use high-quality parts for reliable and durable repairs.
To prevent future breakdowns and maximize the lifespan of your AC unit, we offer comprehensive preventive maintenance services. Regular maintenance helps optimize AC performance and minimize the need for major repairs.
Choose Bickley's for Air Conditioner Repair
Our team of certified technicians possesses extensive knowledge and expertise in air conditioner repair. They are well-trained to diagnose and resolve any AC issue efficiently, ensuring optimal performance.
At Bickley's, we have the capability to repair air conditioning systems from all major brands. Regardless of the make or model of your AC unit, our technicians are equipped with the necessary skills and tools to address it effectively.
We understand the inconvenience caused by a malfunctioning AC system. That's why we prioritize reliability and prompt service to minimize disruptions to your comfort. Our team will schedule repairs at your convenience and strive for efficient turnaround times.
We believe in fair and transparent pricing. Prior to initiating any repair work, our technicians will provide you with a detailed quote, ensuring you have a clear understanding of the costs involved.
Your satisfaction is our ultimate goal. We go the extra mile to exceed your expectations by providing exceptional service and ensuring your air conditioner operates optimally after the repair. We aim to make your experience with us as satisfactory as possible.
Contact Bickley's for Air Conditioner Repair
When you need reliable and professional air conditioner repair in Red Bluff, CA, Bickley's  is your trusted choice. Our skilled technicians, transparent pricing, and commitment to customer satisfaction set us apart. Don't let a malfunctioning AC system disrupt your comfort.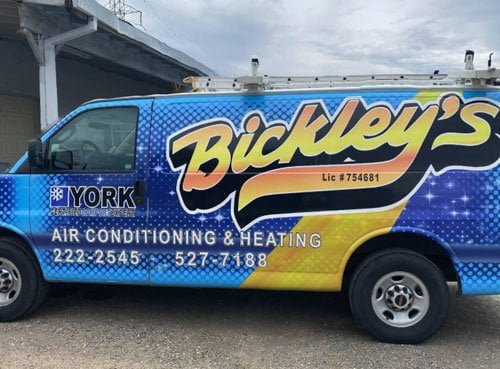 for air conditioning repair in Red Bluff