Air Conditioning Installation in Red Bluff, CA
When it comes to top-notch air conditioning installation in the Red Bluff, CA area, Bickley's is the name you can trust. We specialize in providing exceptional air conditioning installation solutions tailored to meet your specific needs.
With our team of highly skilled technicians and years of industry experience, we ensure that every installation project is executed with precision and utmost care. Our goal is to deliver superior cooling solutions that enhance your comfort and create a refreshing indoor environment for you and your loved ones.
Personalized Air Conditioning Installation
At Bickley's, we understand that every home is unique, and that's why we offer personalized air conditioning installation. Our experts will assess your space, taking into consideration factors such as the size of your home, insulation levels, and your cooling requirements. Based on this evaluation, we will recommend the most suitable air conditioning system that meets your needs and budget.
Customized Solutions with York Air Conditioners
We install York air conditioners. York is known for its exceptional quality, innovative technology, and energy-efficient solutions. With a focus on sustainability and customer satisfaction, York air conditioning systems offer reliable performance while minimizing energy consumption. We will provide you with detailed insights into the features and advantages of York systems, helping you understand why they are a trusted brand in the industry.
Seamless Installation Process
Once you've made your selection, our technicians will handle the installation process seamlessly. We follow industry best practices and adhere to all safety standards to guarantee a hassle-free and efficient installation. Our team will ensure that your new air conditioning system is properly installed, calibrated, and tested for optimal performance.
Comprehensive Maintenance Plans
In addition to our top-quality installation services, we also offer comprehensive maintenance plans to keep your air conditioning system running smoothly year after year. Regular maintenance is essential for maximizing efficiency, preventing costly repairs, and prolonging the lifespan of your system. Our technicians will schedule routine check-ups and perform necessary tune-ups to ensure your air conditioner operates at its best.
Contact Us Today
Choose Bickley's for reliable, efficient, and professional air conditioning installation in Red Bluff, CA. Contact us today to schedule a consultation and experience the difference our expertise can make in enhancing your indoor comfort. Trust Bickley's to provide you with exceptional cooling solutions that you can rely on.
When you need air conditioning installation in Red Bluff, CA, Bickley's Air Conditioning & Heating has got you covered. We offer high-quality air conditioning installations that are tailored to meet your unique cooling needs.
Our experienced technicians can help you choose the right air conditioning system that best fits your budget and home's size. We understand that every home is different, which is why we offer a variety of options for air conditioning installation. We can install central air conditioning systems, ductless mini-split systems, and more.
Your Trusted Choice for Quality AC Installation
When you choose Bickley's Air Conditioning & Heating for your air conditioning installation needs, you can rest assured that you'll get a top-quality service. Our technicians are skilled and experienced, and we use only the best equipment and materials to ensure that your new AC system is installed correctly and will operate efficiently for years to come.
We understand that air conditioning installation can be a significant investment. That's why we offer flexible financing options to make it more affordable for you. We also provide a free estimate upfront, so you know exactly what to expect before any work begins.
At Bickley's Air Conditioning & Heating, we take pride in providing excellent air conditioning installations to homeowners in Red Bluff, CA, and surrounding areas. Contact us today to schedule your appointment and start enjoying the comfort of a brand new AC system.
Denton D. - Red Bluff, CA
Of course it's the middle of summer when my A/C goes out. Have no fear, Red Bluff has Bickley's heating and air. When I called, the response was immediate. The technician was courteous, professional and diagnosed the problem right away. Parts were needed and ordered at once. The following day the parts arrived and the much needed repairs were made. Before leaving the technician explained the repairs and confirmed proper operation of my air conditioner. We're resting cool and easy in these hot summer months thanks to the pros at Bickley's heating and air.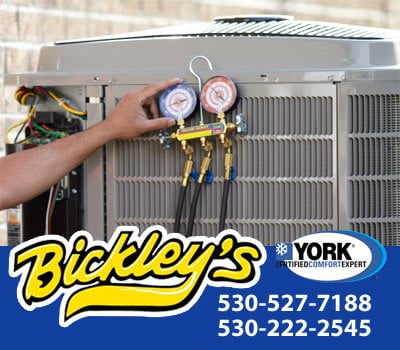 Contact Us for
Air Conditioning Installation