Whole House Fan Installation in Redding, CA
QuietCool Fans
Looking for an affordable way to reduce your electricity bill this summer? An attic or whole house fan in Redding may be just what you need. Bickley's Air Conditioning & Heating's trained service professionals will help you to select right whole-house fan or attic fan considering all the available options: fan size, speed, and controls. We will take all the necessary measures to ensure that your fan is installed and operating properly.
Whole house cooling using a whole house fan can substitute for an air conditioner most of the year in most climates. Whole house fans combined with ceiling fans and other circulating fans provide acceptable summer comfort for many families, even in hot weather. In addition to whole house fans, the ducts of your central heating and cooling system can be modified to provide whole house cooling in Redding.
How Whole House Fans Work
The whole house fan pulls air in from open windows and exhausts it through the attic and roof. It provides good attic ventilation in addition to whole house cooling in Redding, CA. Whole house fans should provide houses with 30 to 60 air changes per hour (varies with climate, floor plan, etc. – check with a professional to determine what is appropriate for your home). The air-change rate you will choose depends on your climate and how much you will depend on the whole house fan for cooling.
Whole House Fans Cool & Save Energy
QuietCool saves customers up to 50-90% off their A/C related electricity costs. By cutting down A/C usage, and maintaining comfort, customers are very happy after installing QuietCool. QuietCool offers many benefits to homeowners such as saving money off A/C usage, cooling both inside the home and attic, and exhausting stale air, germs, odors, and harmful VOC gases.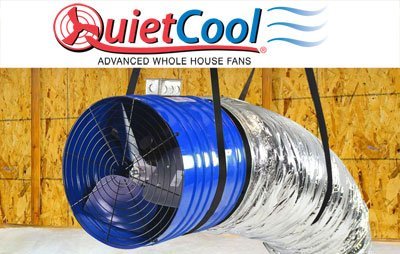 Contact Us About Whole House Fan Installation in Redding, CA