Heating and Air Conditioning Repair in Redding, CA
When it comes to keeping your home comfortable year-round, having a properly functioning heating and air conditioning system is crucial. At Bickley's Air Conditioning & Heating in Redding, CA, we specialize in providing top-notch repair services for both heating and cooling systems. Our team of experienced technicians is dedicated to restoring your comfort quickly and efficiently.
Expert Heating & Air Repair for All Brands
No matter the brand or type of heating and cooling equipment you have, our skilled technicians have the expertise to diagnose and repair it. From furnaces and heat pumps to air conditioners and ventilation systems, we are equipped to handle a wide range of HVAC equipment. Our in-depth knowledge ensures that your system will receive the best possible care, helping it run smoothly for years to come.
Free HVAC Replacement Estimates
At Bickley's Air Conditioning & Heating, we understand that sometimes repair might not be the most cost-effective solution. If our technicians determine that your heating or cooling equipment cannot be repaired, we offer a free estimate for replacement. We believe in transparency and will guide you through the available options, helping you make an informed decision that aligns with your budget and needs.
Why Choose Bickley's Air Conditioning & Heating
Choosing the right HVAC repair company is essential for the longevity and efficiency of your heating and cooling systems. When you choose Bickley's Air Conditioning & Heating, you're choosing a team committed to quality workmanship, exceptional customer service, and prompt solutions. Our reputation in the Redding, CA area speaks for itself, and we take pride in maintaining the highest standards in the industry.
Contact Us Today
Don't let a malfunctioning HVAC system disrupt your comfort. Whether you're dealing with a heating emergency during the winter or a cooling issue in the summer, Bickley's Air Conditioning & Heating is here to help. Contact us today to schedule a repair service, receive a free estimate, or ask any questions you may have. We're your trusted partner for all your heating and air conditioning needs in Redding, CA.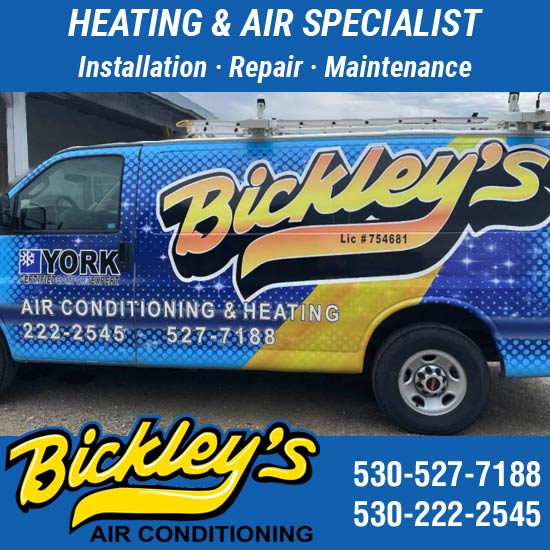 for heating & air conditioning repair in Redding