Heat Pump Repair in Redding
Heat pumps are essential in keeping your home comfortable throughout the year. However, like any other mechanical system, heat pumps can break down, requiring repairs. One of the most common problems is a refrigerant leak, which can lead to reduced performance and efficiency. Bickley's wil locate the leak and repair it, then recharge the system with the appropriate refrigerant.
Another issue that may require heat pump repair is a malfunctioning compressor. The compressor is responsible for circulating the refrigerant throughout the system, and when it fails, the heat pump will no longer function. The compressor may need to be replaced, and this is a task that should only be performed by a licensed and experienced technician.
In addition to these common problems, heat pumps may also require repairs to other components such as the blower motor or the thermostat. Whatever the issue may be, it is important to have it addressed promptly by a qualified technician to avoid further damage and ensure that your heat pump is operating efficiently. Regular maintenance can also help prevent breakdowns and prolong the life of your heat pump.
Heat Pump Replacement
Bickley's can provide you with heat pump replacement options for your home if needed.
Year-round comfort with exceptional efficiency? That's what a YORK® heat pump unit delivers. Whether removing heat and humidity from the air to keep you cool, or drawing heat indoors to keep you warm, you can count on YORK® heat pumps all year long.
Dave Schwartz
Words can't express how happy I am with Bickleys! My wife said she wanted a family owned business and are we glad that she chose Bickleys! From the minute I spoke with Mary on the phone to less than 24 hours later when I was shaking Carlos's hand after he fixed our heater we felt as if we were talking to and dealing with friends and neighbors. Carlos came in with a big smile and a positive, upbeat attitude and explained exactly what he was doing. This is the first time we had to have our heater repaired but I can tell that they are a company that cares about their customers and their community.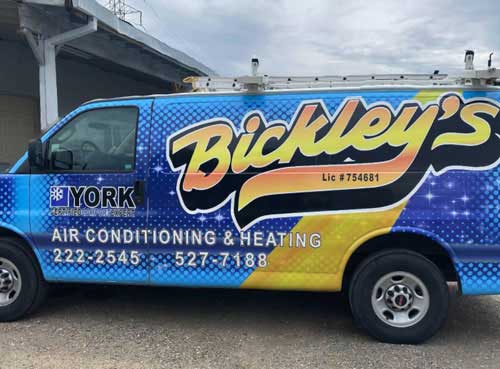 Contact Us
For Heat Pump Repair